contemporary romance
Former MMA fighter Aiden "Irish" O'Brien hasn't stepped into the ring since he accidentally took someone's life in the heat of rage. When his friend calls in a favor that sends him south to check on family, Irish figures he's got nothing to lose. His life is on the ropes. The least he can do is make sure the sexy redhead is safe.
Kat MacGregor has forty-eight hours to settle the twenty thousand dollar debt her deadbeat ex-boyfriend owes a crime boss. If she doesn't, she'll pay for it–with her life. Kat's halfway out the door when a sexy new guy walks into the bar and insists he's there to help.
Irish is forced to fight in the underground MMA circuit to win the money she needs. But he's been lying to Kat. About who he is, about knowing her sister, about why he comes home bruised every night. She's the best thing that's ever happened to him, but breaking her trust will cost him the most important fight of his life: the one for her heart.
My Review:
Like Irish's favorite cranberry juice – Fighting for Irish (A Fighting for Love Novel) (Entangled Brazen) was a bitter, sweet, tart and delicious 5 stars!
We learned about Kat MacGregor, Vanessa MacGregor's sister, in Rules of Entanglement (A Fighting for Love Novel) (Entangled Brazen). Kat's upbringing, tough at best and cripplingly devastating at its worst, left her with deep emotional scars and a protective covering around her heart. She was on the run from the Tennessee Mafia and unable to communicate with Vanessa. A worried Vanessa, led Kat's soon-to-be brother-in-law, Jax, to hire his friend Aiden O'Brien "Irish", to find, follow and if need be, protect her, in Fighting for Irish.
Irish, a retired MMA fighter, was also hiding a tortured past and despite their best efforts their mutual attraction brought them closer. Together the tore down each other's walls, brick by brick, exposing more deep seeded pain and allowing the possibility of love to blossom. Both Kat and Irish were beautifully broken characters who deserved healing, forgiveness and the opportunity at happily ever after, as they faced their pasts.
In true Gina L. Maxwell fashion, the sex was explosive. However, the slow, deliberate, yet gentle, buildup to their lovemaking was handled with care, respect and sensitivity for two characters who believed they were unlovable. Ms. Maxwell's pacing of their relationship, amid the suspense, was impeccable. Of the three books in the series, Fighting for Irish was the most poignantly moving.
While Fighting for Irish, may be read as a standalone novel, I highly recommend reading the first two books in the series – Seducing Cinderella (A Fighting for Love Novel) (Entangled Brazen) and Rules of Entanglement, to get a complete sense of the previous relationships and characters that brought Kat and Irish together. In addition, I am looking forward to reading Xander's story, as he will be another tough nut to crack, and deserves his own ladylove.
About the Author:
Gina L. Maxwell is a shameless romance addict with no intentions of ever kicking the habit.
Growing up she dreamed of helping people escape reality with her acting abilities…until college when she realized she had none to speak of.   Another ten years passed before she discovered a different means to accomplishing the same dream: writing stories of love and passion for addicts just like her.  Her debut novel, Seducing Cinderella, landed on the USA Today and NY Times Bestseller lists in less than a month.
Now she splits her time between writing more books and acting as Boss of the world's first organized romance mafia, the Maxwell Mob.Thanks to the support she receives from her amazing family, Gina is finally able to live her dream of bringing a little romantic fantasy to the world, one steamy novel at a time.
Find out more about Gina on her website, follow her on Twitter, and Pinterest and like her Facebook page.
Team Werewolf for the win!
Love and kisses, V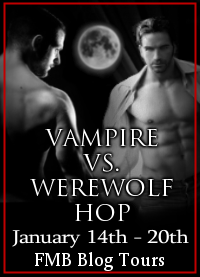 Just call me "captain, team werewolf."
Let's face it: vamps are dead. Sure, they bite, and that's cool, but they're dead.  Werewolves? They have it going on. Big, brawny, hairy alpha males with still-beating hearts. Yes, please. 
Not gonna lie: I'm writing a vamp novel right now, part of a spinoff  to my Ushers series, and vampires have their own attraction and appeal. I'm not anti-vampire, but when it comes right down to it, I'm team werewolf all the way.
To celebrate all things wolfie, tell me about your favorite werewolf in the comments–someone from TV, books, movies? I'd love to hear your favorites (and maybe find some new books to stack on my TBR shelf). I'll draw one lucky commenter to win ebook copies of the first two books in my Ushers werewolf series, Amazon and United.
Don't forget to follow the rest of the hop and meet the…
View original post 24 more words
I prefer contemporary heroines, with all the bells-and-whistles, trials-and-tribulations, and you-go-girl attitude of contemporary novels.   Bodice rippers on pirate ships, featuring Fabio (or Fabio II, Fabio III, mini-Fabio, Fabio Jr,. etc.) can kiss my ass.   I'm not attracted to periods of time without hydroelectric power or hot/cold running water, massage therapists and fast cars.  That's all.