Shelly Laurenston
2013 was filled with lessons.  I learned to listen to my inner voice and my true self more than ever.  I also learned there were things that I was not meant to conquer.  While I was temporarily upset, I ultimately felt elated.  The weight was removed from my chest and I was able to breathe again.  It was empowering.  Sometimes the best lessons learned are those associated with loss.  They may be painful, and show us parts of ourselves we may not be comfortable or satisfied with, but the mirror they hold up to us reflects reality, and helps us move forward.  Grieve, for what was lost,  if we must.  Then grin, as we say, "Whew! Time to try something new."
Books were my constant companions and led me to amazing friendships with readers, authors and bloggers.  These authors' words helped me through a year of personal and professional failure.   They provided bright spots on bleak days and a few moments of escape, while I regrouped.  I will be forever grateful.
My "daughters," Kristen and Sammy, and I solidified our bond and I look forward to meeting them in a few short months.  They are some of the strongest women I know and unbelievable examples of motherhood.  I thank Julie Richman for writing the books that brought Kristen and Sammy into my life.
Hayson Manning's books brought this sumptuous Kiwi goddess into my life.   She has been an amazing Facebook pen pal, whom I hope to meet someday soon.  We have a date on a beautiful island in the South Pacific to sip frosty beverages and ogle gorgeous, shirtless, alpha men.  For research purposes, of course.
Julie Leto, whose work I have admired for many years, joined the ranks of independently published authors with her Dirty Dare novellas, which have recently been released as one novel Dirty Dare (Sexy Suspense Novel).   She has been writing intelligent, strong female characters for many years and I highly recommend her work.   (I hope I don't lose my fangirl mind, when I meet her in 2014, for café con leche.  I really have loved her, since the old Blaze days at Harlequin.  And, I do mean old days.)
Military romances, a longtime passion of mine, also featured predominantly in 2013 and I read books by Heather Long, Tonya Burrows, Kelsie Leverich, Bella Juarez, Jeanette Murray Melissa Schroeder, Laura Kaye, Kaylea Cross, Cristin Harber, J.M. Madden, Tawny Weber and Ann Mayburn.    Many featured Veterans finding, and keeping love, while dealing with the aftermath of their service, like PTSD and injuries sustained in combat.   These women write with an understanding and deep respect for men and women in uniform and I am excited to read their offerings in 2014.
Towards the end of the year, I "discovered" Robin Covington, Avery Flynn and Kimberly Kincaid or the "Man Warriors."  I was drawn to their quick, yet snarky, senses of humor and began to read their books.  I was not disappointed, as their characters reflected each one's unique style and attention to character development.
My paranormal "jones" was satisfied by Shelly Laurenston, Rosanna Leo, Milly Taiden, R.E. Butler, Lauren Dane, Alexandra Ivy, Lauren Wright, Laura Kaye, Heather Long and Christine Warren.   Wolves, big cats and bears…oh my!   Last, but not least, were Gina Maxwell who made tough, tattooed MMA fighters lovable and Tymber Dalton, Joey W. Hill and Cherise Sinclair, who have known how to push my "envelope" just right, for years.
My other constant companions were Hubby and our K9 kids.  They kept me sane, grounded and made me laugh when I could not and smile when I thought I would drown in my tears.   I am blessed to have them in my life.  Hubby, your gentleness, strength and patience knows no bounds.  I love you more today, than the day I married you.
So 2013, I bid thee adieu.  Don't let the door hit you on the ass, on the way out.  You will not be missed.
Why Hello, 2014…you're a sexy beast.  Sit right down here and let's get to know each other, shall we?
This entry was posted in Accountability, Blogging, Book Reviews, Books and Authors, Gratitude, Wisdom and tagged Alexandra Ivy, Ann Mayburn, Avery Flynn, Bella Juarez, Cherise Sinclair, Christine Warren, Cristin Harber, Gina Maxwell, Hayson Manning, Jeanette Murray, JM Madden, Joey W. Hill, Julie Leto, Kaylea Cross, Kelsie Leverich, Kimberly Kincaid, Laura Kaye, Laura Wright, Lauren Dane, Melissa Schroeder, Milly Taiden, R.E. Butler, Robin Covington, Rosanna Leo, Shelly Laurenston, Tawny Weber, Tonya Burrows, Tymber Dalton.
Team Werewolf for the win!
Love and kisses, V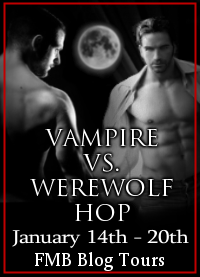 Just call me "captain, team werewolf."
Let's face it: vamps are dead. Sure, they bite, and that's cool, but they're dead.  Werewolves? They have it going on. Big, brawny, hairy alpha males with still-beating hearts. Yes, please. 
Not gonna lie: I'm writing a vamp novel right now, part of a spinoff  to my Ushers series, and vampires have their own attraction and appeal. I'm not anti-vampire, but when it comes right down to it, I'm team werewolf all the way.
To celebrate all things wolfie, tell me about your favorite werewolf in the comments–someone from TV, books, movies? I'd love to hear your favorites (and maybe find some new books to stack on my TBR shelf). I'll draw one lucky commenter to win ebook copies of the first two books in my Ushers werewolf series, Amazon and United.
Don't forget to follow the rest of the hop and meet the…
View original post 24 more words
This entry was posted in Alpha Males, Contemporary Romance, Paranormal, Vampires, Werewolves and tagged Alpha Males, contemporary romance, Shelly Laurenston, strong female characters, Werewolves.
TGIS!!  I'm off for a couple of months from school and can be a "grown-up," again.  Which means the possibility of searching for a "real" (professional) job, which may/may not impact school, taking on a volunteer position at a local hospital or Planned Parenthood, or learning how to be a housewife.   The latter is not really an option.
In the meantime, I've already devoured "Bear Meets Girl," by Shelly Laurenston, my new favorite contemporary paranormal author.  Shelly writes strong, sexy, independent, intelligent female lead characters who are in their thirties (or a little older).   I appreciate that she continues previous characters' stories, as the series progresses, so we can revisit old, beloved characters.  I've thoroughly enjoyed her Magnus Pack series, her Pride series and the first in her Gathering series, "Hunting Season."   She also writes a dragon series as G.A. Aiken, but I'm not a fantasy fan and have never been able to get into that series.
The second book I read was Christine Warren's "On the Prowl," latest installment in The Others series.  This series also features paranormal characters, in contemporary situations, and follows a group of female friends as they find themselves, their leading men and HEA.  The heroines are smart, sassy and able to stand on their own, so their men have to be true alpha males.
A newer series I started reading, even though the characters are younger than I typically like, are Olivia Cunning's "Sinners" series, which follows a naughty rock band and their lady loves.   The themes are stronger sexually (some BSDM), than Laurenston's or Warren's.  I was surprised I enjoyed them as much as I have.
I've downloaded the "50 Shades of Grey," trilogy, to see what all the hype is about.  However, I already have some doubts about the relationship in that series.   I am not a fan of women who are unable or unwilling to refer to their own body parts in anatomical terms and use "down there," or "my privates," to describe their female organs.   Furthermore, I feel it is irresponsible to introduce said women to a D/s lifestyle, without a great deal of coaching and sex education.   The premise of the books and the character's too young ages, give me pause.   We'll see.   (Lorelei James and Maya Banks have a better understanding of this lifestyle and extensive libraries, that are responsibly written and cheaper).
My newest find has been the "Savannah Coven," series by Suza Kates.  Again, my favorite theme – female friends who find their mates and HEA.   It explores some paranormal themes and is a travelogue for the beautiful city of Savannah.   The first three book are available: "Whisper of the Witch," "Conviction of the Witch," and "Binding of the Witch."  There will be nine books when she completes the series.  It has been unexpectedly engaging and entertaining learning each character's personalities and unique abilities.  I am looking forward to reading more.
This entry was posted in Books and Authors, Uncategorized and tagged Olivia Cunning, Shelly Laurenston, Suza Kates.