Paranormal
Cici Trent, vampire and media darling, spends her days finding true love for humans and supernaturals (the "Others") at her dating agency. But someone is trying to sabotage her business and she needs help. Unfortunately, the best man for the job is the one who broke her still-beating heart two hundred fifty-four years ago.
Deacon is a patient vampire. He's only loved one woman in over three hundred years— CiCi— and she chose another. So when she shows up in his office asking for help, he finally has the chance to lay that demon to rest. He'll help her, but for a price—a night in his bed.
Adrenaline, mischief, and a little late-night B&E light the passion that even a couple of lifetimes couldn't put out. But Deacon has a secret and when Cici is suddenly mortal, his deception might be the only way restore her immortality. Can love bridge the gap between a heartbeat and forever?
My review:
I went through a huge vampire phase and devoured every popular series starring vampires – from Anne Rice's darkly tortured The Vampire Chronicles to Charlaine Harris' Southern Vampire Mysteries, also known as the "Sookie Stackhouse" novels to Stephanie Meyer Twilight Series series. I was "all-vampyred" out! Not only did I stop reading all vampire stories, when they began to resemble these popular series, I avoided all by J.R. Wards' Black Dagger Brotherhood. Vampires became passé to me and romance genres had jumped the proverbial shark with them. I was happy in my animal shifter world, with warm-blooded wolves, lions, tigers and bears….oh my. Yummy, yummy bears.
When I heard Robin Covington was writing a vampire novel I was intrigued. She was one of my favorite contemporary romance authors and I gave her the benefit of the doubt.
Reunited After 200 Years. A Blessing or a Curse?
Robin Covington's paranormal debut was a hit! I was a fan of her books – the Boys are Back in Town (A Night of Southern Comfort, His Southern Temptation, Sweet Southern Betrayal) series and Playing the Part. Even though I was on a self-imposed 'vampire strike,' avoiding all vampire books after many years of devouring them, I decided to read Sex and the Single Vamp with an open mind. I received a complimentary copy of Sex and the Single Vamp, and was not disappointed!
I already knew Ms. Covington had purposefully taken a new direction with this book. Both main characters, Felicity 'Cici' Trent and Thomas Samuel Deacon (aka. Deacon) were vampires at the beginning of the story. Over two hundred years after their first meeting, Cici sought out Deacon's help because someone was sabotaging her business. Deacon agreed to help her, if she spent a night in his bed.
Suspense-filled reunion. Check.
Two-hundred-year-old unrequited feelings. Check.
Layers of lies, secrets and mistrust. Check.
Smoking hot and poignant sex. Check.
Deacon may be Ms. Covington's most tortured hero. This was no easy feat, as several of her alpha men are former/active duty military with layers of sublimated pain. Deacon balanced a dichotomy between the sexy, honorable soldier and a ruthless vampire killer, which made him an alpha hero we rooted for more and more as the story developed. At the same time, Cici faced her fears, acted on her desires and embraced her true power. Midway through the action, Ms. Covington provided an interesting plot twist that forced this well-matched pair to revisit two-hundred years of pain and unanswered questions.
Ms. Covington's talent for subtly tackling themes of discrimination and loss were integral parts of the story. Her secondary characters, Mya and Andy are the voices of reason; adding comic relief and the swift kick in the pants that Cici and Deacon needed to open up their hearts to each other. The suspense built, as we learned more about her diverse world of Others and their human counterparts. I hope she writes Andy, Mya and Ramirez's stories in the future.
I highly recommend Sex and the Single Vamp, as a sensually, pleasant departure from the typical vampire tale.
Review links: Amazon and Goodreads.
About the Author:
Robin Covington, who NYT Best Selling authors, Robyn Carr and Carly Phillips, said was their new "auto-buy author", writes sizzling hot contemporary and paranormal romance.
A Night of Southern Comfort, her best-selling debut novel was a 2012 finalist in the RT Book Reviews Reviewers Choice Awards, earned 4.5 stars and was touted by RT Book Reviews as bringing a "fresh, modern feel to the genre while still sticking to the things that get our adrenaline pumping — sex and danger". When she's not exploring the theme of fooling around and falling in love, she's collecting tasty man candy, indulging in a little comic book geek love, and stalking Joe Manganiello.
Robin is a member of the Romance Writers of America, the Washington and Maryland Romance Writers, a faculty member at Romance University, a member of the Waterworld Mermaids, and a contributor to the Happy Ever After blog at USA Today. You can find Robin on her website, Facebook, Pinterest, and Twitter (@RobinCovington).
Robin lives in Maryland with her hilarious husband, brilliant children, and ginormous puppies.
I have mixed feelings about Zak Bagans' Travel Channel show "Ghost Adventurers," even though I am a fan. They seem to have a knack for disrespecting spirits and taunting demons. However, their show is a nice contrast to the more serious "The Dead Files," which takes a methodical, more global approach to examining places with possible paranormal activity. "The Dead Files," pairs Amy Allan a medium with Steve Di Shavi on each case. Amy and Steve disseminate evidence separately, then provide the families a comprehensive report, with historical data, about events that may have lead to hauntings.   They also provide suggestions on how to deal with any paranormal activity.  Zak and his crew have a more of a "bull in a china shop" approach.

As The Haunted Librarian notes, Zak recently purchased a property in Indiana, known as the "portal to hell."  He plans to live there, while his team investigates any activity. What could possibly happen? Oh boy.  Dangerous, does not begin to describe the world of hurt they may be unleashing, if they go into that situation ill-prepared and full of piss and vinegar.  In other words, the way they walk into all of their investigations.

API will be discussing this case and possible repercussions on their show, Thursday and I am curious to hear their take. Tune in, folks.
The Haunted Librarian
Supposed "Portal to Hell" House
"Portal to Hell's" New Owner: Zak Bagans
Granted I'm a tad tardy to the discussion, but I've decided to jump into to fray. Ghost Adventurer's Lead Investigator Zak Bagans has purchased the "haunted" house on Carolina Street in Gary, Indiana. He paid $35,000 for the "modest" property. Bagans is quoted as saying: "I really [have] a passion for this stuff… ." This smacks as a publicity stunt!
Charles Reed, the former owner, sold the property days after a local newspaper published a story whereby calling the house the "Portal to Hell." Former renter Latoya Ammons, along with her three children and mother, moved into the house in 2011. During the following year, Ms. Ammons claims that one child levitated over a bed, another child walked backwards up a wall, ominous footsteps were heard, and the animal elicited strange behavior. Catholic priest Rev. Michael Maginot exorcised…
View original post 336 more words
Tonight's the night, people!! Tune in to Archer Paranormal Investigations' weekly radio show to hear about their experiences.
The Haunted Librarian
Archer Paranormal Investigations starts weekly radio show tomorrow. Tune in to www.liveparanormal.com every Thursday at 7 pm. Join the Haunted Librarian and the API team as we discuss past cases and current paranormal events, and even have a special guest or two!
The premise of this show is a dual investigation of site with possible paranormal activity.  Steve, a retired NYC detective researches the history of the location, including any foul play that may have occurred on the site.  Amy, a  medium sensitive to those who have passed on, does her own "walk," to connect with any spirits present.
The show combines two program ideas I am drawn to: police "true crime" stories and paranormal activity.  Each Friday, I struggle to stay awake, after a long week of RN school and clinical rotations, to watch the latest show.  I like that they take a pragmatic, almost skeptical, approach to each investigation.   It's one of the few intelligent reality TV show out there, in my opinion.
There's also a big "heebee jeebies" factor that keeps me coming back for more.  I have always had a healthy respect for spirits.  Perhaps it was my own paranormal experience, when I was a toddler.  Apparently, my Grandfather Homer, "visited" me before his spirit left us and I was found crying out for him, by my Grandmother Olga.  I don't remember the experience at all, and have always wondered if a medium would "see" him around me, acting as my Guardian Angel.
If you haven't watched it, give it a try.  You might be as hooked, as I am.
Team Werewolf for the win!
Love and kisses, V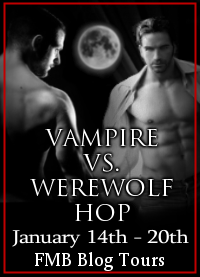 Just call me "captain, team werewolf."
Let's face it: vamps are dead. Sure, they bite, and that's cool, but they're dead.  Werewolves? They have it going on. Big, brawny, hairy alpha males with still-beating hearts. Yes, please. 
Not gonna lie: I'm writing a vamp novel right now, part of a spinoff  to my Ushers series, and vampires have their own attraction and appeal. I'm not anti-vampire, but when it comes right down to it, I'm team werewolf all the way.
To celebrate all things wolfie, tell me about your favorite werewolf in the comments–someone from TV, books, movies? I'd love to hear your favorites (and maybe find some new books to stack on my TBR shelf). I'll draw one lucky commenter to win ebook copies of the first two books in my Ushers werewolf series, Amazon and United.
Don't forget to follow the rest of the hop and meet the…
View original post 24 more words