Werewolves
Team Werewolf for the win!
Love and kisses, V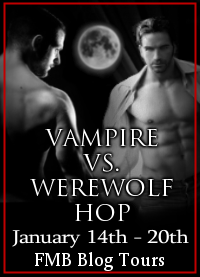 Just call me "captain, team werewolf."
Let's face it: vamps are dead. Sure, they bite, and that's cool, but they're dead.  Werewolves? They have it going on. Big, brawny, hairy alpha males with still-beating hearts. Yes, please. 
Not gonna lie: I'm writing a vamp novel right now, part of a spinoff  to my Ushers series, and vampires have their own attraction and appeal. I'm not anti-vampire, but when it comes right down to it, I'm team werewolf all the way.
To celebrate all things wolfie, tell me about your favorite werewolf in the comments–someone from TV, books, movies? I'd love to hear your favorites (and maybe find some new books to stack on my TBR shelf). I'll draw one lucky commenter to win ebook copies of the first two books in my Ushers werewolf series, Amazon and United.
Don't forget to follow the rest of the hop and meet the…
View original post 24 more words